---

---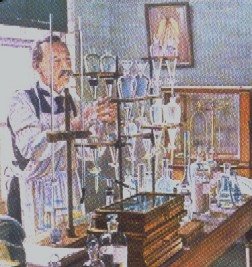 John J. McLaughlin
Chemist / Pharmacist
CHEMIST MIXES EQUAL PARTS
TRADITIONAL TASTE & INNOVATION
TO CREATE REFRESHMENT LEGACY

By Grant D. McLaughlin / June, 2000

As he gently stirred the fragrant golden syrup into the carbonated water, John smiled with delight. The syrup was dissolving very quickly. John immediately stopped stirring and held the beaker to the light from the lab's window. The young chemist/pharmacist was elated as he noted the amount of carbonation remaining in the liquid. As he placed the beaker down in front of his previous unsuccessful attempts, John reiterated what he had just discovered. This syrup was the key. The carbonation in the soda water was released much less during mixing. The syrup dissolved much more readily than the sugar itself.

John's past experiments in making a carbonated lemonade had been falling flat. He had been adding lemon juice and sugar to carbonated water. Stirring the water long enough to dissolve the sugar also liberated the gas that was suspended in the water. He had ended up with just plain old lemonade. But now, by mixing a soluble flavored syrup or an extract (a term he was familiar with from his pharmaceutical training) with soda water, a very refreshing, bubbling beverage could be concocted by any local soda fountain. John knew, with very few exceptions, soda water patrons would "take sugar" with their beverage.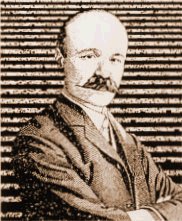 John James McLaughlin

New and Improved Flavors in Soda Water
The year was 1890. The young pharmacist's name was John James McLaughlin. John was the eldest son of Robert McLaughlin -- the well-known Canadian emigrant from Ireland and proprietor of the McLaughlin Carriage Company of Oshawa, Ontario. John had gone to school at the University of Toronto's College of Pharmacy and was currently living in Toronto. To support himself, John set up a tiny carbonating plant in the city and sold soda water in siphon bottles. Other pharmacists with soda fountains in Toronto bought John's bottled soda water to mix with fruit juices. And soon, they were also buying John's flavored extracts.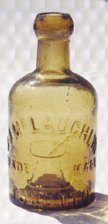 Seltzer-style bottle circa 1890
Embossed with
"J.J. McLAUGHLIN
TRADE [mortar and pestle] MARK
TORONTO"
During the 1890's, John worked as a pharmacist and supervisor of his bottling business during the day, and at night he would continue to experiment with different types of syrup flavorings. John formulated improved versions of the most popular soda fountain libations of the day such as the lemon sour and cream soda.
McLaughlin Pursues Pale, Dry, Flavorful Ginger Ale
There was one other type of flavored soda water that was quite popular. This soda was a completely different style of soda, and had been made at least since the 1600's and probably even earlier. It is a descendant of fermented beverages such as beer and wine, and was often referred to as a "small beer." Beverages such as beer and wine are made by yeast turning sugar into alcohol, and as a by product of this fermentation process, carbon dioxide is produced. By drinking these carbonated beverages before the yeast has had a chance to completely consume all of the sugars, a sweet carbonated beverage could be had. Apple cider is probably one of the earliest beverages of this type, and other beverages that fall into this category are root beer, sarsaparilla, and ginger beer.
Ginger beer is a beverage popular in the United Kingdom. It is made by fermenting a mixture of ginger, water, sugar, cream of tartar, and yeast. Lemon peel and juice or citric acid may also be added. McLaughlin used ginger as a pharmacist; ginger has been said to have medicinal properties. Ginger beer is bottled before fermentation is complete; it is carbonated and mildly alcoholic. With the flavor of his ancestor's Belfast ginger beer in mind, the pursuit of a pale, dry, flavorful ginger ale consumed John J. McLaughlin's passions.

Bottle ca. 1900
Embossed with
"J. McLAUGHLIN"

A Vision of Pre-mixed Bottling
While McLaughlin worked on perfecting his ginger ale formulation, John saw that the concoctions that were made on demand from carbonated water and flavorings were only lining his pockets. McLaughlin had a vision: He dreamed of beverages that were formulated and packaged ahead of time. In order for him to realize the profits, pre-mixed drinks would have to be marketed as finished products to retailers.
Inspired, McLaughlin continued to sell his "McLaughlin's Belfast Style Ginger Ale" syrup and other syrups and soda water, and in 1894 moved his syrup manufacturing operations to a larger facility on Sherbourne Street. There, McLaughlin sought to improve his ginger ale formula. Attaining perfection wasn't easy; it would be after hundred of painstaking experiments and ten years before an improved formulation of the drink debuted as "McLaughlin's Pale Dry Ginger Ale" in 1904. By then, the muddy hue of the drink's original recipe was lightened to a more appealing amber. The sweetness was diminished too, replaced by a sublime dry flavor. With persistence and dedication, McLaughlin had created a beverage of "utmost purity, sparkle, and refreshing goodness." In addition, John fulfilled his dream by beginning to bottle the mixed product for Canadian retailers. In 1905, a patent was filed for the new formula, and the name "Canada Dry Pale Ginger Ale" was trademarked in 1907.
Canada Dry Ginger Ale Crowned and Honored
As part of the new label design for Canada Dry bottles, McLaughlin intended to include a map of Canada as the background image. To complete the scene, a beaver, Canada's national emblem, was to take prominence.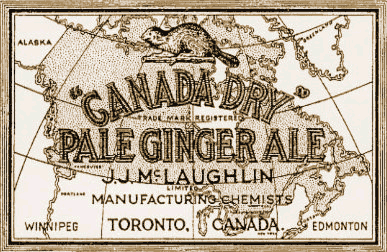 Canada Dry label circa 1905
McLaughlin had to remove the beaver
and replaced it with a crown.
A problem surfaced, however: Canadian Pacific Railway was already using the beaver as part of its logo. Railroad officials requested that Canada Dry remove the paddle-tailed mammal from its label and keep it off. McLaughlin complied and replaced the mascot with a crown. With an acceptable image established, Canada Dry was ready to be poured out across the border. To manufacture the product for export, plants were established in Toronto and Edmonton, and by 1907, the pale, ginger drink was being shipped to U.S. grocery jobbers and wholesalers. As more people tried it, a following was born. McLaughlin pioneered techniques for mass bottling to serve Canada Dry where people gather in masses, such as ballparks and beaches. Later, prestige was bestowed upon the beverage when it was appointed to the "royal household of the Governor General of Canada," then the Duke of Devonshire. Having earned the adulation of royalty, the sparkling soft drink was touted as the "Champagne of Ginger Ales," and later the trademarked shield was emblazoned with a golden crown.
The McLaughlin Chapter Closes -- The Saga of Canada Dry Continues in U.S.
Sadly, John J. McLaughlin basked in the glory for only a brief time. In 1914, he passed away at the age of forty-eight. At that time, his brother R.S. "Sam" McLaughlin, part owner of the McLaughlin Motor Car Company, assumed an active role in the company and moved to make it a thriving concern in the United States. Although current profits were modest, he was pressed by principals to invest heavy ad dollars in the American market. In a big way, consumers were to be informed that "Down from Canada Came Tales of a Wonderful Beverage."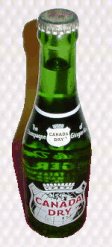 1948 7oz. Bottle
The investment paid off when Americans left dry by the Eighteenth Amendment and Prohibition began gulping "dry" ginger ale by the gallons. As a mixer, Canada Dry was just the ticket to mask the unsavory taste of bootleg Canadian whiskey or the homemade alcohol being distilled in speakeasies. The association of ginger ale and liquor in the non-drinking public's mind caused sales to drop for many brands of sweeter, less mixable, "golden" ginger ales. The manufactures of such brands stopped production of golden ginger ale or went out of business, leaving Canada Dry pale dry ginger ale with even more of the market share.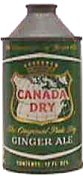 1953 Cone-top Can
In 1922, the company set up a U.S. subsidiary as Canada Dry Ginger Ale, Inc. and opened up a manufacturing operation in New York. But within a year, the entire company was sold. Ontario-born Canadian Parry Dorland Saylor bought all the assets for one million American dollars, and the Canadian company was now an American company, incorporated in Virginia.
As the years past, Canada Dry prospered, and more bottling plants came on board. In 1936 the first license was awarded to a bottler in Lima, Peru to manufacture and sell Canada Dry beverages, and Canada Dry International was organized. In 1953, Canada Dry became one of the first in the beverage industry to package its wares in cans. The introduction of sugar-free drinks followed in 1964, along with extensive use of radio and television for advertising.
The Traditional Taste of a Belfast Style Ginger Ale Lives On
By the 1980s, the company was passed along to numerous owners. First, it was bought by the Del Monte Corporation, an RJR Nabisco subsidiary; then, it was acquired by the Dr Pepper Company, followed by Norton-Simon Inc.; finally, it was purchased by Cadbury Schweppes p.l.c. for $230 million. Today, Cadbury Schweppes, with Canada Dry Ginger Ale and many other Canada Dry flavors, ranks third in the world in soft drink production, surpassed only by Coca-Cola and Pepsi Cola. Last year 133.1 million thirst-quenching gallons of Canada Dry Ginger Ale were consumed worldwide.
And so, the tradition of providing a pale, dry ginger ale to North American consumers -- and now consumers throughout the world -- continues. As was true when John J. McLaughlin first began, the famous Canada Dry shield continues to stand for the "utmost purity, sparkle, and refreshing goodness."


---
McLaughlin Rearview Mirror issues:   May 2000   --   June 2000  --  July 2000  --  August 2000  --   September 2000

October 2000   --   November 2000   --   December 2000   --   January 2001
---