---

---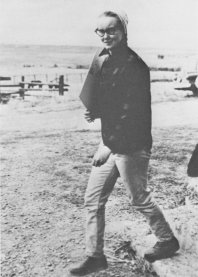 Nancy McLaughlin
on the buffalo range in Montana 1957.
WESTERN ARTIST CAPTURES SPIRIT
OF THE AMERICAN INDIAN

By Grant D. McLaughlin / November, 2000

As a painter and sculptor, Nancy McLaughlin brings to us the life of the American Indian. Her childhood among the Blackfeet Indians in Montana gave her first hand knowledge of the warmth, humor, and dignity of the Indian people and of their surroundings. These early experiences had a tremendous impact upon her art.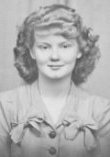 Nancy in 1947
Nancy McLaughlin was born in Kalispell, Montana in 1932. Five years of her childhood were spent on the Blackfeet Indian Reservation, where her father worked on a ranch, and where her friends and classmates were Indian children. As a child, she was adopted into the Blackfeet tribe and given the name Me Sa' Maxaki which means Swan Woman. Her relationship with them was so close that when the Indian agency grade school was closed, Nancy wanted to follow them to boarding school; but as a non-Indian, she was sent to school in Valier, Montana.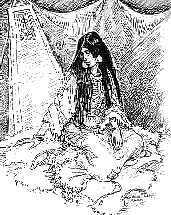 Lodge Woman
Pen & ink
8" x 10"
1959
Although not attending school with the Indian children, she continued her friendships with them. Because of this she was able to meet and talk with many of the older tribal members, who would tell stories and legends of the Blackfeet. As she learned of their customs and legends, she developed an in-depth understanding of the people.
All through school Nancy drew pictures when she was supposed to be doing other things. An art class was not available until her senior year in high school. Influenced by her teacher, she decided to become an artist. After graduating from high school, she studied art education for two years at Montana State University. She taught school for a year before permanently trading her chalk and schoolbooks for a paintbrush and a piece of clay.
Nancy was a multi-media artist, and enjoyed working with many types of materials -- clay, oil, acrylic, pastel, watercolor, graphite, and pen and ink. She also worked with dry point and etching. Sculpture was her favorite medium. Nancy tended to think all around an image, even when she painted, and found sculpture one of the most honest forms, as she said, "... because all sides are exposed and you can't get away with any tricks." Her bronzes covered a variety of subjects, ranging from small horses to busts to larger, major pieces.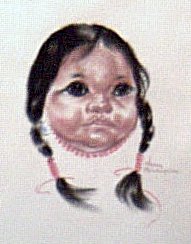 Untitled
Charcoal/Pastel
9" x 12"
1955
Many of her earlier works were portraits of the Blackfeet Indians. She first specialized in painting Blackfeet children -- her "Indian Baby Syndrome" that founded the family joke that she had "produced more Indian babies than the reservation." The accurate detail and depth of perception of these early pieces have probably been responsible for placing her among the top three women artists in the Western field. When asked why many of her portraits have dark backgrounds, she replied, "The original studies were done in the lodges, around a fire; and under such circumstances one can only see faces without backgrounds."
The Blackfeet legends she heard as a child also became favorite subjects. These were the tales and stories handed down by word of mouth for generations. Nancy recalled that the legends "were all interesting, fascinating, and exciting; and they placed the world and people's lives in a perspective that brought order and understanding."
Another favorite subject was Indian women. She presented these women as pillars of strength radiating gentleness, beauty, and dignity.
Boundry Dispute
Etching
4 3/8" x 8 1/8"
1981
While Indians played a central them in her art, she did not limit herself to them. She did studies of cowboys, horses, domestic animals, and wildlife. She traveled extensively -- a great deal on horseback -- to remote areas of Montana, and the scenes she encountered on many of these trips are often found woven into her art.
Although Nancy spent most of her life in Montana, she also lived in other areas recording customs and cultures of Native Americans. She studied and painted the Makah Indian Tribe of the state of Washington. Many of these pieces are on display in the Washington State Museum at Olympia. She later moved to Arizona where she was commissioned to sculpt the chiefs of the major tribes found in that state. She also lived in Texas among the local Indians.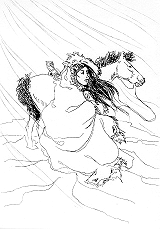 Modonna of the Snow
Etching
4 5/8" x 6 7/8"
1981
Nancy was married to well-known artist Ace Powell from 1952 to 1964. During that time she occasionally signed her works as Nancy McLaughlin Powell. Ace had also grown up in Montana and his father was a stable boss, guide, and packer in Glacier National Park. Ace worked as a cowboy, breaking and wrangling horses east of Glacier Park. In 1938, after a few private art lessons, Powell became a self-taught artist, sketching and painting what he knew best, the cowboy and the Indian with their horses in the region around Glacier Park. Ace and his wife Nancy often sold their art to tourists in Glacier Park.
There are some interesting perspectives and rumors about Nancy McLaughlin and her husband, Ace Powell. One of the rumors that arises, supposedly from their divorce papers, was the premise that she supposedly did all of the horses for Ace in his paintings. Also, during their marriage, Nancy was very prolific working with many media except oils. It has been said that Ace Powell did not want her doing oils and be competing with him on the art market.
In her lifetime, Nancy acquired techniques from other working artists. Living in the shadow of Russell, as do most Montana artists, she was influenced by his work, but Nancy thought her study of Rodin's works had an even stronger impact upon her art. This influence can be seen in her sculpting as well as other media.

Heading for Belly River
Etching
1 3/4" x 6 1/4"
1982
Nancy often completed several small studies as preliminaries for major pieces. These studies were done from different perspectives until she was able to capture the precise mood and emotion. "There is no point in just painting a pretty picture," she said. "You have to put something more into it. Also, you must be critical and you must not fall in live with your work -- that's a real hazard. Don't be ever completely happy with what you have done. If you get to that point, you have gone as far as you are going."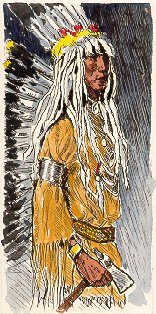 Crazy Dog Soldier
Etching/Watercolor
3 1/8" x 6 1/4"
1982
Over the years, Nancy's art had been considered dynamic. She experimented with the creative process and expanded her horizons. That had not always been easy because she desired to produce items that pleased both her and her collectors. Nancy explained, "It is difficult to do new things because you don't know how your public will react, but you must do them in order to grow. However, if one's ideal in life is to make money, art isn't the way. If money comes along as you are doing it, that's a lucky by-product. One's satisfaction must come from what is being done."
For Nancy, it hadn't always been easy making it as an artist. In the early years she did sketches and pastels for a dollar apiece. These were usually sold to the tourists who traveled through Montana during the summer months. "They were the 'bacon and eggs' pieces that helped to keep me eating," she recalled. She always put in long, hard hours to produce the quality of work so sought after by collectors. "Art is an all encompassing activity," Nancy said of her work ethic. "Some people are very regimented, working from 9 - 12 and 1 - 5, then they don't think about it again until the next day, that's not right. One should make a commitment to art, one needs to make concessions."
Nancy and her horse
"Candy Apple"
One area of growth in Nancy's paintings came through her interest in Russian impressionism. She sought training in that school and as a result, many of her paintings shifted towards that style. Nancy noted, "Most Russian impressionists were trained in Paris. The primary difference between Russian and French impressionism is that of subject matter. The genre of many of the Russians was peasants." She admired the works of Russians Repin and Nicolai Fechin.
When the Western Artists of America (WA) was officially founded in 1978, Nancy was invited to be a founding member. She was the first woman in this new organization and many of her works bear the prestigious "WA" after her signature.
Nancy McLaughlin died in 1985. Her accomplishments are many and they have placed her in an esteemed position among western artists. Her art is internationally known and sought after in many countries. The name Nancy McLaughlin is known for high technical competence and authentic rendering of American Indians and their legends.


---
Visit the McLaughlin Virtual Gallery featuring the art of Nancy McLaughlin. Stroll through the exhibits, interacting with thirteen works on canvas and two sculptures.



Welcome to the McLaughlin Gallery.
Click on the entrance to begin your visit.
Follow the signs on the walls or watch the status bar at the bottom of your browser for directions.
We hope you enjoy the exhibition.
---
McLaughlin Rearview Mirror issues:   May 2000   --   June 2000  --   July 2000  --   August 2000  --   September 2000

October 2000  --  November 2000
---